A few wonders (some still at the speculation stage, admittedly) to ponder:
Light's not only pushy, it can be a drag. "
Sun's own light may be slowing its surface spin
."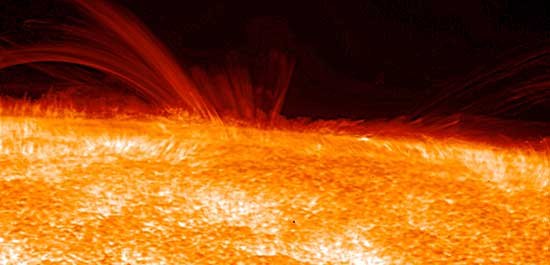 A little light music ...
One of the key parameters in modern cosmological thinking is Hubble's Constant -- and we may not yet know its value. "
HOLiCOW! Astronomers measuring the expansion of the universe confirm that we still don't understand everything
."
Pulsars are
very
power emitters of energy in radio frequencies. Pulsars pulse with metronomic regularity -- except, apparently, not all of them. "
Astronomers discover two pulsars with an 'off' switch: Now you see them, now you don't.
" (Shades of the "on-off star" in Vernor Vinge's excellent
A Deepness in the Sky
.)
Rock of ages ...


And again close to home, "
The solar system's weirdest asteroid has frozen water on its surface
: 16 Psyche, a metallic relic of the early solar system, just got weirder." (Does 16 Psyche ring a bell? Well it might. Just last month NASA picked it as the target for a future asteroid mission: "
NASA Selects Two Missions to Explore the Early Solar System
.")
And perhaps that's enough weird for one post ...